As I said during the initial retrospective, Avatar the Last Airbender even makes the side characters memorable. Since there are so many, I'm going to just cover three of my favorites.
Cabbage Guy: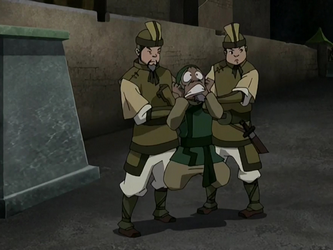 My cabbages!
Come on, you guys all knew I'd mention him at some point. Though he wasn't a major side character, he was still memorable. Mostly used for comic relief, he also served as an interesting way to somewhat foreshadow impending events. While he never actually participated in any fights, the guy shows up wherever there was going to be a major or climactic arc. The dude has some of the worst luck I've ever seen. Not matter where he goes, the Aang and the others are always there to mess up his stuff. The dude just can't catch a break.
King Bumi:
Uncle Iroh:
Order of the White Lotus:
The Order of the White Lotus is basically a group of old warriors spanning across the four nations who seek everlasting peace in the world. Though they don't appear until season 3. The most prominent members are Jeong Jeong, Iroh, Bumi, Pakku, and Piandao. All of them are masters of their specific art and Aang and his friends met each of them on their journey. Since some of them don't have much backstory, I'll list a bit about them and their introductions in the series.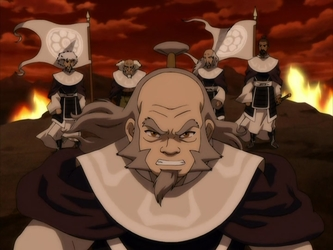 left to right: Jeong Jeong, Bumi, Iroh (center), Pakku, and Piandao
Jeong Jeong: A former Fire Nation general he trained general Zhao. He became a wanted man in the Fire Nation after jumping ship and leaving the Fire Nation army.
Bumi: The mad king of Omashu (I've already talked about him so I won't repeat myself).
Uncle Iroh: The Dragon of the West (again I've already talked about him).
Pakku: The greatest waterbending master in the Northern Water Tribe.
Piandao: A great swordsman and the one who taught Sokka the way of the sword.